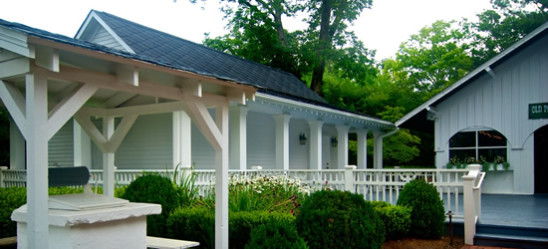 The Pace House, a historic home near Atlanta, in Vinings, Georgia is Best Wedding Venues In Atlanta. This historic house was built with the remains of the 17-room antebellum home of Vinings founder Hardy Pace. The house served as General Sherman's temporary headquarters where he planned the siege of Atlanta. The men will be enthralled by the Civil War history, while the women, will be charmed by the simple elegance that defines The Pace House and The Old Pavilion.
Today, the Pace House consists of three rooms: a parlor, a dining room and a bridal room. The adjacent Old Pavilion, itself a Vinings landmark, offers ample event space bathed in natural light in a historic setting. The facilities include a catering kitchen complete with refrigerator, warming stove, and sink as well as moveable tables for food preparation and assembly. Two male and two female restrooms are provided on-site. A spacious open deck connects the buildings. Lush trees on the lawn provide shade during the day and at night choose the exterior lighting or the moonlight above.
In May 2009, the Pace House was added to the National Register of Historic Places. Make your history at one of the best wedding venues in Atlanta, The Pace House.