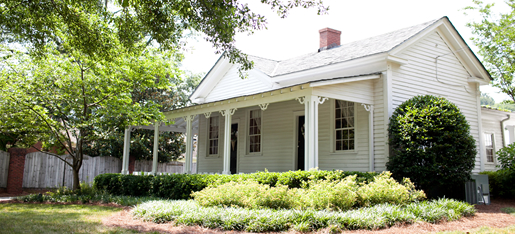 About The Pace House and The Old Pavilion
Surrounded by fine homes, in the shadow of skyscrapers, is a small oasis….the delightful village of Vinings. At its heart are two historic gems, The Pace House and The Old Pavilion. Wrapped in nineteenth century charm, they provide the perfect setting for today's weddings and special corporate or private events.
The Historic Pace House was built from the remains of the 17-room antebellum home of Vinings founder Hardy Pace. The house served as General Sherman's temporary headquarters where he planned the siege of Atlanta. After the Civil War, Hardy's son, Solomon Pace, returned home to find the family home in ruins. Sometime around 1870, Solomon rebuilt the home – albeit more modestly- from doors, windows and remnants of several small cabins that survived the fire of the main house.
Today The Pace House consists of a parlor, a dining room, and a bridal suite which can be used as a private retreat for the bride and her attendants or event host. This modest frame house has a sense of history so tangible that you feel it from the moment you enter.
Adjacent to The Pace House, The Old Pavilion, itself a Vinings landmark, was a place where old Atlanta Society entertained and danced the night away during the late 1800s and until the early 1900s. Today guests can use this historic property to make history for themselves. With a warm, rustic ambiance, The Pace House and The Old Pavilion feature a versatile reception area that is perfect for any occasion. Both buildings are connected to a spacious open deck area which can be a beautiful site for a ceremony and may also be transformed into your dance floor or cocktail area for your event.
The Pace House and The Old Pavilion are operated by The Vinings Historic Preservation Society, a non-profit organization. All profit from event rentals goes towards the Society's mission of maintaining and preserving these properties, along with The Yarbrough House, the Society's headquarters across the street.
As of May 2009, the Pace House has been added to the National Register of Historic Places.